Getac ZX70 G2
Fully Rugged Tablet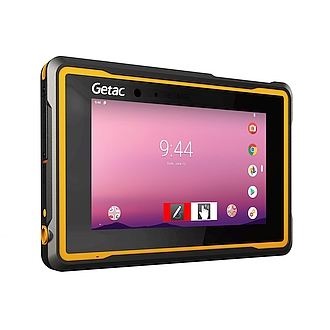 Only Getac manufactures rugged tablets down to the chassis. The ZX70 was engineered to survive drops, shocks, rain, vibration, dust, liquid and more. IP67 certified, the ZX70 can be submersed in 1 metre of water for up to 30 minutes. It is certified to a MIL-STD 810H six foot drop rating. Being able to work in any environment is critical, even freezing cold conditions. The ZX70 rugged tablet can be operated in temperatures from -21°C to 60°C.
The ZX70 is designed to be a purpose-built tool with a host of configurable options to fit the way you work, including dedicated GPS + 4G LTE cellular data, WiFi+BT, 1D/2D Barcode Reader and NFC/RFID. 8MP front and 12MP rear cameras make data capture, video conferencing, training and diagnostics in the field convenient and easy.
The ZX70 is powered by the Android 9.0 operating system and is verified by Google™ as an Android Enterprise Recommended Rugged Device. Getac's sophisticated technology and rugged devices – combined with the Android Enterprise Recommended verification –makes it even easier to scale and support your mobile fleet. Standardized features let you manage devices seamlessly and consistently every time. In addition, its familiar interface makes the tablet easy to use while also providing access to millions of existing apps on the Google Play store. Get the job done right the first time with Getac and the power of Android in the palm of your hand.
The ZX70 features a 7" inch IPS, sunlight readable display with 580 nits of brightness, enhancing readability in the toughest work environments. Responding effortlessly to your every touch, the revolutionary LumiBond 2.0 touchscreen technology bonds the display glass with the touch panel and LCD, creating a single panel that is more durable and readable, and offers better contrast and more crisp colours than any other rugged display. It features two advanced touch modes, touch/rain, glove or pen mode, and the included hard-tip stylus enables you to capture signatures and take more precise notes on drawings, maps or forms.
The latest ZX70 rugged tablet has been enhanced with a more powerful core processor for what matters most in critical situations: speed. It offers a superior octa-core to create a smooth and seamless user experience, allowing greater productivity and lower latency between tasks. Whatever the job demands, the ZX70 enables a faster collection and processing of data and the power to multi-task with greater efficiency and provides leading battery runtime performance in its class for mission-critical field operations.
Surprisingly thin and light, the ZX70 is small enough to hold comfortably in one hand yet big enough to help you get your job done. The arc case design makes it easy to grasp and use, while the overall ergonomics are readily accepted by workers which means improved productivity and faster ROI.
Qualcomm® Snapdragon™ 660, Octa-core Processor
Verified as Android Enterprise Recommendedi
7" LumiBond® Display with Getac Sunlight Readable Technology and Glove-enabled Capacitive Touchscreen
6 Feet Drop , MIL-STD-810H and IP67 Certified
Optional Barcode Reader and RFID Reader
High Sensitivity GPS
Getac ZX70 G2 Models

| | | |
| --- | --- | --- |
| Model Number | Description | Price* |
| Z1C72XDI5AAX | Getac ZX70 G2 | £715.00 |
| Z1C72XDI5OAX | Getac ZX70 G2 with 4G LTE (EM7455) | £955.00 |
| Z1C72XDI5RAX | Getac ZX70 G2 with 4G LTE (EM7455) and Pass-through | £1025.00 |
| Z1C72NDI5AAX | Getac ZX70 G2 with Laser Barcode Reader | £1050.00 |
| Z1C72XDI5RAC | Getac ZX70 G2 with 4G LTE (EM7455) and Pass-through, HF RFID with NFC Combo Reader | £1140.00 |
| Z1C72MDI5RAX | Getac ZX70 G2 with 4G LTE (EM7455) and Pass-through, LED Barcode Reader | £1260.00 |
| Z1C72NDI5OAX | Getac ZX70 G2 with 4G LTE (EM7455), Laser Barcode Reader | £1295.00 |
ZX70 G2 standard features are Qualcomm Snapdragon 660 Octa-core 1.95 GHz, 4GB RAM, 64GB Storage, 7" 1280 x 720 Sunlight Readable LCD + Touchscreen, Bluetooth, WiFi, GPS, Docking Connector (JAE), 8MP Webcam, 12MP Rear Camera, Android 9.0, EU & UK Power Lead, 3-Year B2B Warranty
Additional Getac ZX70 Warranties

| | | |
| --- | --- | --- |
| Part Number | Description | Price* |
| GE-SVCRNFS5Y | Bumper to Bumper - Years 1 to 5 (including 2 Years Extended Warranty & Pack and Collect) | £171.26 |
Leasing the Getac ZX70 G2 is available to organisations and typically costs from £26.04 p/m on a 3-year agreement. For more information see computer leasing.
View All:
Getac Notebooks and Tablets
Rugged Tablets
Panasonic Toughbooks and Toughpads
Getac ZX70 Accessories

| | | |
| --- | --- | --- |
| Part Number | Description | Price* |
| GAA251 | Getac AC Adapter Set with US/EU/UK/CHN/ANZ Plug for ZX70 | £35.90 |
| GAD2X5 | Getac 40W, 11-16V, 20-32V DC Vehicle Adapter for ZX70 | £79.95 |
| GDOFEH | Getac Office Dock (with JAE connector, supports USB Host, USB Client, HDMI output, Audio output, LAN and Power Supply) (EU) for ZX70 | £180.37 |
| GDOFKH | Getac Office Dock (with JAE connector, supports USB Host, USB Client, HDMI output, Audio output, LAN and Power Supply) (UK) for ZX70 | £180.37 |
| GMCHX1 | Getac Docking Connector to HDMI Converter Cable (for JAE connector type) for ZX70 | £15.39 |
| GMCRX1 | Getac USB to RS232 Converter Cable for ZX70 | £11.97 |
| GMRSX2 | Getac Wrist Strap for ZX70 | £5.98 |
| GMS2X3 | Getac Shoulder Strap for ZX70 | £15.39 |
| GMHRX7 | Getac Rotating Hand Strap with Kick Stand and Stylus Holder (incompatible with Vehicle Docks GDVPX2 & GDVPX1) for ZX70 | £33.34 |
| GMBCX3 | Getac Carry Bag for ZX70 | £59.84 |
| GMPSXI | Getac Spare Capacitive Stylus for ZX70 | £17.95 |
| GMPFXD | Getac Protection Film (AG) for ZX70 | £23.08 |
| 7160-1135-00 | Gamber-Johnson Non-powered Vehicle Cradle for ZX70 | £132.00 |
| DS-GTC-703 | Havis Vehicle Cradle without Vehicle Charger for ZX70 | £191.00 |
| DS-GTC-711-2 | Havis Vehicle Dock with Replication, JAE Connector and Dual Pass-through, without Vehicle Charger for ZX70 | £391.00 |
| 543384760008 | Brodit Passive Holder with Key Locking and Tilt Swivel for ZX70 | £132.00 |
| 442879100016 | Lind 12-32 Vdc input Isolated DC/DC Adapter for ZX70 | £236.20 |
| 442879100017 | Lind 20-60 Vdc input Isolated DC/DC Adapter for ZX70 | £236.20 |
*Please note that all prices shown are exclusive of VAT
Getac ZX70 G2 Full Specification
Operating System
Android™ 9.0
Mobile Computing Platform
Qualcomm® Snapdragon™ 660, Octa-core 1.95GHz, burst up to 2.2 GHz
VGA Controller
Qualcomm® Adreno™ 512 GPU
Display
7" IPS TFT LCD HD (1280 x 720)
LumiBond® display with Getac sunlight readable technology
Capacitive touchscreen with glove on
Storage & Memory
4GB LPDDR4
64GB storage
Keyboard
4 tablet buttons ( Power, Barcode Launch Button, Volume Up, Volume Down)
Pointing Device
Touchscreen
- Capacitive multi-touch screen
Expansion Slot
MicroSD x 1
I/0 Interface
8M pixels webcam x 1
12M pixels auto focus rear camera x 1
MicroUSB 2.0 (Client) x 1
USB 2.0 (Host) x 1
Docking connector (Pogo/JAE)
DC in Jack x 1
Optional RF antenna pass-through for GPS and WWAN
Communication Interface
Wi-Fi 802.11ac
Bluetooth (v5.0)ii
Dedicated GPS
Optional 4G LTE mobile broadband
Security Features
Optional contactless HF RFID/NFC combo readeriii, iv
Optional barcode reader
Power
AC adapter (25W, 100-240VAC, 50 / 60Hz)
Li-Ion battery (3.8V, typical 8480mAh; min. 8220mAh)
Dimensions (W x D x H) & Weight

218 x 142 x 27 mm (8.58 " x 5.6" x 1.08")

762g (1.68lbs)v

Rugged Features
MIL-STD-810H certified and IP67 certified
6 feet drop resistantvi
Environmental Specification
Temperaturevi:
- Operating: -21°C to 60°C / -6°F to 140°F
- Storage: -40°C to 71°C / -40°F to 160°F
Humidity:
- 95% RH , non-condensing
Software
Getac Settings and Google™ Applications (Search, Chrome, Gmail, Maps, YouTube, Play, Drive, Play Music, Play Movies, Duo and Photos)
Accessories
Carry bag
AC adapter (25W; 12V/2A, 100-240VAC; 50 / 60 Hz)
Vehicle adapter (40W 11-16V, 20-32VDC)
Capacitive stylus
Rotating hand strap with kickstand and stylus holder
Office dock
Vehicle dock
USB to RS232 converter cable
Docking connector to HDMI converter cable
Protection film
Shoulder strap
Wrist strap
Bumper-to-Bumper warranty
Accidents can take your equipment out of service when you least expect it, especially in a rugged environment, which can cause costly equipment downtime.
That is why Getac has introduced accidental damage as standard under their new Bumper-to-Bumper warranty, to help minimise your enterprise IT costs. Bumper-to-Bumper is your hassle-free guarantee. That means you can depend on Getac to have your unit back in service within days.
Standard - 3 years Bumper-to-Bumper
i Android Enterprise Recommended rugged devices deliver a consistent set of features verified by Google with an elevated device baseline, increased security standards and enterprise-focused features and behaviors to meet the needs of users. Google and Android are trademarks of Google LLC

ii Bluetooth performance and connectable distance may be subject to interference with the environments and performance on client devices, users may be able to reduce effects of interference by minimizing the number of active Bluetooth wireless devices that is operating in the area.

iii 13.56MHz Contactless HF RFID/NFC reader (ISO 15693, 14443 A/B, Mifare and FeliCa™ compliant).

iv HF RFID/NFC combo reader applies to US & EU.

v Weight and dimensions vary from configurations and optional accessories.

vi Tested by a national independent third party test lab following MIL-STD-810H.