Leasing Computer Equipment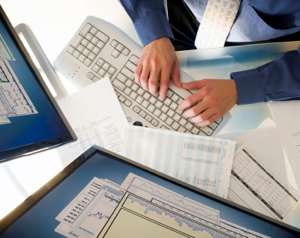 Leasing is a means to pay for any capital purchase with low fixed monthly rentals, which means you can budget and manage your cash flow in a more cost efficient manner. It is a way of managing obsolescence without writing off large single sums and for many businesses is a tax efficient way of acquiring the equipment needed to run the business.
Leasing allows you to invest your money in other areas where you will get a higher return on capital employed. It is the route to bridging the gap between what you need and actually can afford. It means you can have tomorrow's technology today. What's more, rentals are fully allowable against taxable income, similar purchases are not.
Ultima is a complete IT solutions provider, supplying servers, workstations, notebook computers, iPads, structured data and voice cabling, software, and telephone systems. We can arrange flexible finance agreements, tailored payment patterns and assist you all the way. We can also arrange for special rates to the education, professions and public sectors. Examples of leasing costs are available here.
Some of the benefits of leasing IT equipment include the following:
Leasing offers a cost efficient path to continual technological upgrades.
Leasing allows you to have the equipment that you need rather than the equipment that equals your capital budget.
Sometimes you do not need to pay a deposit, just the first payment in advance.
Existing lines of credit are preserved, so that these are available for more effective use elsewhere in your business.
Lease rentals are a fully tax deductible expense offering a tax efficient means of obtaining new equipment.
Fixed leasing commitment enables easier budgeting, assists with forward planning and protects vital cash flow.
You do not bear the burden of ownership and disposal of equipment.
Leasing means you do not have to wait months or years to recover your capital investment, as increased income and efficiency from your new equipment may pay your lease payments and reduce costs. Leasing provides you with the benefit of flexibility for future equipment upgrades to match the changing needs of your business.
We can arrange the right lease or purchase agreement for your business. Please call us on 01892 785000 to discuss your requirements. We can normally have an approval in principle within an hour.
If you would like any further information or advice on IT leasing please contact us on 01892 785000 or fill in the callback form below and a member of the team will call you back at your specified time.