Infocase User Harness PCPE-INFUVA1
User Harness for Toughbooks and Toughpads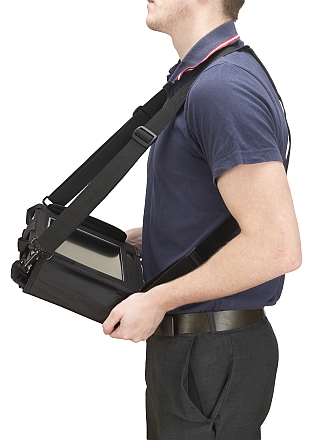 Please note that this product must be used with the CF-19/CF-30/CF-31 Corner Ring kits or with the Infocase Always-On products. The Toughmate User Harness is a must have for mobile computing in the field. This ergonomic four-point harness system holds your Toughbook securely in front of you for quick, easy, hands-free use.
Features and Benefits:
Increases Productivity - Increases productivity by allowing you to quickly transition from carrying your Toughbook to using it hands free!
Rugged Design - Like Toughbook computers, the Toughmate User Harness has been tested and approved to PCSC's unsurpassed engineering standards.
Compatible - Works with any user harness ready Toughmate case. This includes the Toughmate 19 X-strap, Toughmate Always-On 19, Toughmate Always-On 19 , and Toughmate Always-On 52.
Infocase User Harness PCPE-INFUVA1

| | | |
| --- | --- | --- |
| Model Number | Description | Price* |
| PCPE-INFUVA1 | Infocase User Harness for Toughbooks and Toughpads | £29.40 |
*Please note all prices shown are exclusive of VAT

This Infocase User Harness is compatible with the following Toughbooks:

Panasonic Toughbook CF-18 Mk1/5
Panasonic Toughbook CF-19 Mk1
Panasonic Toughbook CF-19 Mk2
Panasonic Toughbook CF-19 Mk3
Panasonic Toughbook CF-19 Mk4
Panasonic Toughbook CF-19 Mk5
Panasonic Toughbook CF-19 Mk6
Panasonic Toughbook CF-19 Mk7
Panasonic Toughbook CF-19 Mk8
Panasonic Toughbook CF-20 Mk1
Panasonic Toughbook CF-20 Mk2
Panasonic Toughbook CF-31 Mk1
Panasonic Toughbook CF-31 Mk2/3
Panasonic Toughbook CF-31 Mk4
Panasonic Toughbook CF-31 Mk5
Panasonic Toughbook CF-33 Tablet Mk1
Panasonic Toughbook CF-33 Tablet Mk2
Panasonic Toughbook CF-33 2-in-1 Detachable Mk1
Panasonic Toughbook CF-33 2-in-1 Detachable Mk2
Panasonic Toughbook CF-53 Mk1
Panasonic Toughbook CF-53 Mk2
Panasonic Toughbook CF-53 Mk3
Panasonic Toughbook CF-53 Mk4
Panasonic Toughbook CF-54 Mk1 HD
Panasonic Toughbook CF-54 Mk1 Full HD
Panasonic Toughbook CF-54 Mk2 HD
Panasonic Toughbook CF-54 Mk2 Full HD
Panasonic Toughbook CF-54 Mk3 Entry
Panasonic Toughbook CF-54 Mk3 Mid
Panasonic Toughbook CF-54 Mk3 Premium
Panasonic Toughbook CF-D1 Mk1/2/3
Panasonic Toughpad FZ-A2 Mk1
Panasonic Toughpad FZ-A3
Panasonic Toughpad FZ-B2 Mk1
Panasonic Toughpad FZ-B2 Mk2
Panasonic Toughpad FZ-E1
Panasonic Toughpad FZ-F1
Panasonic Toughpad FZ-G1 Mk1
Panasonic Toughpad FZ-G1 Mk2
Panasonic Toughpad FZ-G1 Mk3
Panasonic Toughpad FZ-G1 Mk4
Panasonic Toughpad FZ-G1 Mk5
Panasonic Toughpad FZ-M1 Value Mk1/2/3
Panasonic Toughpad FZ-M1 Mk1/2
Panasonic Toughpad FZ-M1 Mk3
Panasonic Toughpad FZ-N1
Panasonic Toughpad FZ-N1 Mk2.5
Panasonic Toughpad FZ-X1