Panasonic CF-31 DVD Multi-Drive CF-VDM311U / CF-VDM312U
DVD Multi Drive for Toughbook CF-31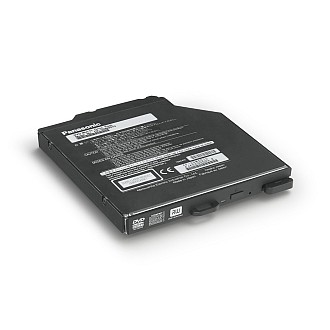 Panasonic CF-31 DVD Multi Drive

| | | |
| --- | --- | --- |
| Model Number | Description | Price* |
| CF-VDM311U | Panasonic DVD Multi Drive for Toughbook CF-31 | £276.65 |
| CF-VDM312U | Panasonic DVD Multi Drive with Power DVD for Toughbook CF-31 | £276.65 |
*Please note all prices shown are exclusive of VAT

Panasonic CF-VDM311U / CF-VDM312U Specification
Item
Description
Operating voltage range
DC 5 V ± 0.25 V
Drive
Data Transfer Rate*1
Reading*2: DVD-ROM: 8X (Max.), CD-ROM: 24X (Max.)
Writing*3:CD-R: 24X (Max.), CD-RW: 4X, High-Speed CD-RW: 10X, Ultra-Speed CD-RW: 24X (Max.), DVD-R: 8X (Max.), DVD-R DL: 6X (Max.), DVD-RW: 6X (Max.), DVD-RAM: 5X (Max.), +R: 8X (Max.), +R DL: 6X (Max.), +RW: 4X (Max.), High Speed +RW: 8X (Max.)
Supported Discs/Format*4
Reading: DVD-ROM (4.7 GB, 8.5 GB, 9.4 GB, 17 GB), DVD-Video, DVD-R (1.4 GB, 3.95 GB, 4.7 GB), DVD-R DL (8.5 GB), DVD-RW*5 (1.4 GB, 2.8 GB, 4.7 GB, 9.4 GB), DVDRAM* 6 (1.4 GB, 2.8 GB, 4.7 GB, 9.4 GB), +R (4.7 GB), +R DL (8.5 GB), +RW (4.7 GB), High Speed +RW (4.7 GB), CD-Audio, CD-ROM, CD-R, Photo CD, Video CD, CDRW, High-Speed CD-RW, Ultra-Speed CD-RW, CD TEXT, CD-EXTRA
Writing: DVD-R (1.4 GB, 4.7 GB for General), DVD-R DL (8.5 GB), DVD-RW*5 (1.4 GB, 2.8 GB, 4.7 GB, 9.4 GB), DVDRAM* 6 (1.4 GB, 2.8 GB, 4.7 GB, 9.4 GB), +R (4.7 GB), +R DL (8.5 GB), +RW (4.7 GB), High Speed +RW (4.7 GB), CD-R, CD-RW, High-Speed CD-RW, Ultra-Speed CD-RW
Buffer underrun error prevention function
Supported
Cache memory
2 MB*7
Interface
Serial ATA
Dimensions (width × depth × height)
132 mm × 149 mm × 14 mm {5.2" × 5.9" × 0.6"}
Weight
Approx. 220 g {0.49 lb.}
Operating temperature/
Humidity range
5 °C to 35 °C {41 °F to 95 °F}/
30 % RH to 80 % RH (no condensation)
*1 The data transfer rate of DVD per 1X speed is 1,350 KB/s.
The data transfer rate of CD per 1X speed is 150 KB/s.
*2 If an unbalanced disc (e.g., a disc with which the balance has been displaced from the center) is inserted, the speed may become slower if there are large vibrations while the disc is rotating.
*3 Depending on the disc, the writing speed may become slower.
*4 1GB = 1,000,000,000 bytes. Your operating system or some application software will report as fewer GB.
*5 Does not support DVD-RW Ver.1.0.
*6 DVD-RAM: Only non-cartridge type or removable cartridge type can be used.
*7 1 MB = 1,048,576 bytes.
This Panasonic DVD multi drive is compatible with the following Toughbooks:

Panasonic Toughbook CF-31 Standard Mk1
Panasonic Toughbook CF-31 Standard Mk2
Panasonic Toughbook CF-31 Standard Mk3
Panasonic Toughbook CF-31 Standard Mk4
Panasonic Toughbook CF-31 Standard Mk5