Panasonic CF-C1 Desktop Port Replicators Part No.s CF-VEBC11U and CF-VEBC11AU
Desktop Port Replicators for Toughbook CF-C1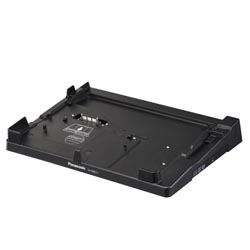 Panasonic CF-C1 Desktop Port Replicators CF-VEBC11U/AU

| | | |
| --- | --- | --- |
| Model Number | Description | Price* |
| CF-VEBC11U | Panasonic Desktop Port Replicator with DVD Drive for Toughbook CF-C1 | £198.25 |
| CF-VEBC11AU | Panasonic Desktop Port Replicator without DVD Drive for Toughbook CF-C1 | £146.75 |
*Please note all prices shown are exclusive of VAT

Panasonic CF-VEBC11U/AU Specification
Item
Description
Power Supply Input
DC16.0 V (Use the specified AC adaptor supplied with the computer or one sold separately as an accessory.)
Connector
84-pin
USB Port*1
USB × 4 (USB 2.0); 1: Allowable current for port : 500 mA; 2a / 2b / 2c: Allowable current for each port : 500 mA
LAN Port
IEEE802.3ab 1000BASE-T, IEEE802.3u 100BASE-TX, IEEE802.3 10BASE-T (RJ-45)
HDMI Port*1*2
HDMI × 1 For exclusive use with HDMI standard
External Display Port
Mini Dsub 15-pin female (Analogue interface)
eSATA Port*1
eSATA × 1 For exclusive use with eSATA standard
Physical Dimensions (W x H x D)
Approx. 337 mm x 265 mm x 50 mm
{Approx. 13.3" x 10.4" x 2.0"}
Weight
CF-VEBC11U : Approx. 1.56 kg {3.44 lb.}
CF-VEBC11AU : Approx. 1.39 kg {3.06 lb.}
Operating temperature/
Humidity range
5 °C to 35 °C {41 °F to 95 °F}/
30 % RH to 80 % RH (no condensation)
Only for CF-VEBC11U
Item
Description
CD/DVD Drive: Data Transfer Rate*3
Reading*4: DVD-ROM: 8X (Max.), CD-ROM: 24X (Max.)
Writing*5: CD-R: 24X (Max.), CD-RW: 4X
High-Speed CD-RW: 10X
Ultra-Speed CD-RW: 24X (Max.)
DVD-R: 8X (Max.), DVD-R DL: 6X (Max.)
DVD-RW: 6X (Max.), DVD-RAM: 5X (Max.)
+R: 8X (Max.), +R DL: 6X (Max.)
+RW: 4X (Max.), High Speed +RW: 8X (Max.)
CD/DVD Drive: Supported Discs/Format*6
Reading: DVD-ROM (4.7 GB, 8.5 GB, 9.4 GB, 17 GB), DVD-Video,
DVD-R (1.4 GB, 3.95 GB, 4.7 GB), DVD-R DL (8.5 GB),
DVD-RW*7 (1.4 GB, 2.8 GB, 4.7 GB, 9.4 GB),
DVD-RAM*8 (1.4 GB, 2.8 GB, 4.7 GB, 9.4 GB), +R (4.7 GB),
+R DL (8.5 GB), +RW (4.7 GB), High Speed +RW (4.7 GB),
CD-Audio, CD-ROM, CD-R, Photo CD, Video CD, CD-RW,
High-Speed CD-RW, Ultra-Speed CD-RW, CD TEXT,
CD-EXTRA
Writing: DVD-R (1.4 GB, 4.7 GB for General), DVD-R DL (8.5 GB),
DVD-RW*7 (1.4 GB, 2.8 GB, 4.7GB, 9.4 GB),
DVD-RAM*8 (1.4 GB, 2.8 GB, 4.7 GB, 9.4 GB), +R (4.7 GB),
+R DL (8.5 GB), +RW (4.7 GB), High Speed +RW (4.7 GB),
CD-R, CD-RW, High-Speed CD-RW, Ultra-Speed CD-RW
Buffer underrun error prevention function
Supported
Cache memory
2 MB*9
*1 Does not guarantee operation of all USB, HDMI and eSATA-compatible peripherals.
*2 When connecting the HDMI compatible display, specifications such as maximum resolutions available to output differ, depending on the specifications of the connected devices. See the specifications of the connected device for details.
*3 The data transfer rate of DVD per 1X speed is 1,350 KB/s. The data transfer rate of CD per 1X speed is 150 KB/s.
*4 If an unbalanced disc (e.g., a disc with which the balance has been displaced from the center) is inserted, the speed may become slower if there are large vibrations while the disc is rotating.
*5 Depending on the disc, the writing speed may become slower.
*6 1 GB = 1,000,000,000 bytes. Your operating system or some application software will report as fewer GB.
*7 Does not support DVD-RW Ver.1.0.
*8 DVD-RAM: Only non-cartridge type or removable cartridge type can be used.
*9 1 MB = 1,048,576 bytes.
These Panasonic desktop port replicators are compatible with the following Toughbooks:

Panasonic Toughbook CF-C1 Mk1
Panasonic Toughbook CF-C1 Mk2