Gamber-Johnson Lite Vehicle Dock for Toughpad FZ-M1 and FZ-B2
Model Numbers PCPE-OCM1CD1/3/4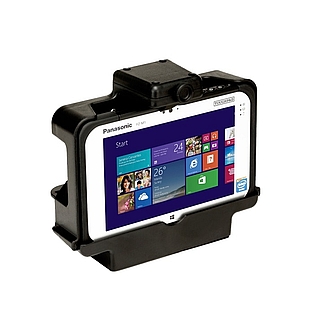 A specially designed slim, field-serviceable vehicle dock which accommodates both FZ-M1 and FZ-B2 Toughpad devices.
This dock has been created to reduce the overall size and weight of the dock and tablet combination for those customers who do not require any of the additional options available for their Toughpad FZ-M1 or FZ-B2 device.
A unique removable electronics panel has been incorporated into the design of this dock (except on non-electronic version), which means the user can quickly and easily replace the panel in the case of damaged connectors, significantly reducing downtime in the field.
Features:
Designed specifically for Toughpad FZ-M1 and FZ-B2 devices
Designed according to MIL-STD-810G test criteria
Slim design for space saving
Unique removable electronics panel for replacement in the field
Reduced port replication: 2 x USB 2.0 and LAN port
Optional dual antenna pass-through
Non electronic version available (without removable electronics panel)
VESA 75mm mounting pattern
Alignment tabs to prevent damage to the docking connector when docking
Rugged construction for reduced weight and long-term durability
Docking mechanism tested to 30,000 cycles
1 year standard warranty (pick up and return)
3 and 5 year Extended Warranty and Accidental Damage Warranty options available
Gamber-Johnson Lite Vehicle Docks

| | | |
| --- | --- | --- |
| Model Number | Description | Price* |
| PCPE-OCM1CD1 | Gamber-Johnson Lite Vehicle Dock with Reduced Port Replication, without Antenna Pass-Through for Toughpad FZ-M1 and FZ-B2 | £809.30 |
| PCPE-OCM1CD3 | Gamber-Johnson Lite Vehicle Dock with Reduced Port Replication, with Antenna Pass-Through for Toughpad FZ-M1 and FZ-B2 | £804.00 |
| PCPE-OCM1CD4 | Gamber-Johnson Lite Vehicle Dock with Reduced Port Replication, with no Electronics for Toughpad FZ-M1 and FZ-B2 | £209.50 |
Vehicle Dock Extended Warranties

| | | |
| --- | --- | --- |
| Model Number | Description | Price* |
| CF-LESPND3P | Extended Warranty - 3 Years | £28.00 |
| CF-LESPND5P | Extended Warranty - 5 Years | £53.00 |
| CDS-LESPTAD3P | Accidental Damage warranty - 3 Years | £94.00 |
| CDS-LESPTAD4P | Accidental Damage warranty - 4 Years | £101.00 |
| CDS-LESPTAD5P | Accidental Damage warranty - 5 Years | £183.00 |
*Please note all prices shown are exclusive of VAT

Gamber-Johnson Lite Vehicle Dock Specification
Model Number
PCPE-OCM1CD1
PCPE-OCM1CD3
PCPE-OCM1CD4
Power Supply Input
DC 16V
None
LAN Port
1x RJ45
-
USB Port
2x USB 2.0
-
Serial Port
-
-
HDMI Port
-
-
VGA Port
-
-
Headphone
-
-
Microphone
-
-
Antenna Pass-Through
No
Yes
-
Lock
No
Dimensions:
Width
223 mm (8.79")
223 mm (8.79")
Depth
159 mm (6.231")
76 mm (2.98")
Height
184 mm (7.26")
184 mm (7.26")
Weight
0.59 kg (1.3 lb)
0.44 kg (0.97 lb)
Warranty
1 Year Standard Warranty (pick up and return). Extended Options Available.
FZ-M1 Configurations not Supported
Barcode Reader, Serial Port, Smartcard Reader, NFC, UHF/RFID, Hot-Swappable Battery, Hand Strap (and Stylus)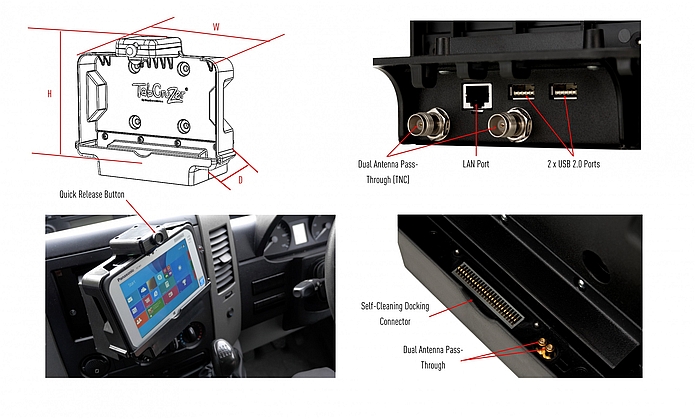 These Gamber-Johnson Lite Vehicle Docks are compatible with the following Toughpads:

Panasonic Toughpad FZ-B2 Mk1/2
Panasonic Toughpad FZ-M1 Value Mk1/2/3
Panasonic Toughpad FZ-M1 Mk1/2
Panasonic Toughpad FZ-M1 Mk3