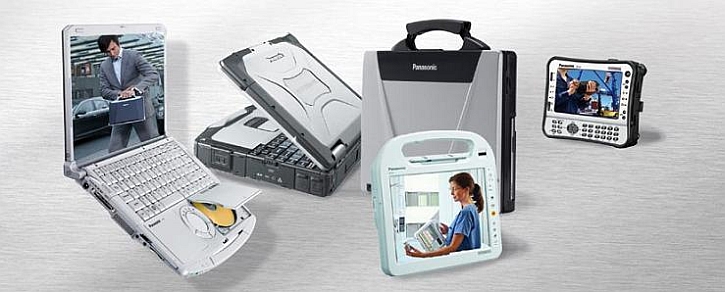 Executive Toughbook Accidental Damage Warranty
Overview
Panasonic Business Ruggedised Toughbooks deliver the highest possible standards of mobile business performance. Their outstanding mobile capabilities and business ruggedised quality mean they are perfect for business people, sales people and frequent travellers who work on the move. Which is why Panasonic happily offers you a Three-Year Warranty against material and manufacturing faults.
However, Panasonic recognises that your key business hardware isn't always safely stored in your office, and needs extra protection on the road. Because of this, they're offering you a One-Year Accidental Damage Warranty.
As part of this agreement, they will repair or even replace your Business Ruggedised Toughbook free of charge if it is accidentally damaged within a year of purchase. Their approach is simple: you break it, they fix it, quickly and conveniently for you. It's all part of their commitment to providing the ultimate in customer satisfaction – and, of course, demonstrates their confidence in Toughbooks.
Warranty Benefits
Enhance the productivity of your mobile workforce.
Manage budgets more effectively by minimising out-of-warranty repair charges.
Increase uptime for your mobile workforce by streamlining out-of-warranty coverage issues.
Customers want to reduce the time associated with repairs and expedite service by eliminating the hassles of dealing with in-warranty and out-of-warranty issues.
Warranty Description
The Warranty covers all repairs that result from an accident during regular use. It does not cover damage from intentional acts, fire, loss, theft, normal wear (cosmetic and tear) not affecting functionality, improper maintenance and modification by anyone other than a Panasonic Service Centre or authorised Panasonic Service Provider, or damage that is attributable to acts of God. The single claim limit is the value of the computer, and the total sum insured is the total amount invoiced for your Panasonic Toughbooks. The Warranty must be purchased as part of the original sale from a Panasonic representative or within 30 days of purchase of the associated hardware. All system components are covered under the programme, including the LCD. The model and serial number must be supplied to Panasonic before any service can be rendered. Under this service, if repairing a unit is impossible, Panasonic will replace it with a model of equal or greater value. (Please refer to the terms and conditions in the Service Manual for a complete description.)
1 Year Accidental Damage Warranty
Available on Panasonic Toughbooks from the Business Ruggedised series (CF-F8 and CF-T8)
Covers a complete range of damage: non-intentional liquid spills on unit, drops, falls, collisions and electrical surge – even covers a damaged or broken LCD display
Includes all parts and labour needed to complete repairs
Additional services available to match your infrastructure
High Quality, Durability and Ruggedness
Panasonic leads the industry in reliability, by engineering and building their notebooks to be durable from the inside-out. The Toughbook Business-Rugged series comes equipped with everything a mobile business person could need:
Rigorous testing ensures they withstand a drop from 76cm in operating mode
They are able to endure up to 100kg of pressure on the top lid without screen damage
Each has a spill-resistant keyboard for reducing the risk of damage by liquid spills up to 200ml
The keyboard is also durable and long-lasting key prints
Magnesium casing protects against sporadic motherboard failure due to hairline cracks
Pricing Information
Executive Accidental Damage Warranty

| | | |
| --- | --- | --- |
| Part Number | Description | Price* |
| CF-LESPAD502 | Executive Accidental Damage - extra 2 years ( 2nd/3rd year) for CF-F9, CF-T8 | £134.50 |
| CF-LESPAD504 | Executive Accidental Damage - extra 3 years ( 2nd/3rd/4th year) inc. warranty extension for CF-F9, CF-T8 | £408.25 |
| CF-LESPAD505 | Executive Accidental Damage - extra 3 years ( 2nd/3rd/4th/5th year) inc. warranty extension for CF-F9, CF-T8 | £645.15 |
*Executive Accidental Damage Drive Warranty coverage must be purchased as part of the original Toughbook Computer sale. Specifications are subject to change without notice. Please note that all prices shown are exclusive of VAT.