Brother PJ-622 A4 Mobile Printer
Compact A4 Mobile Printing Solution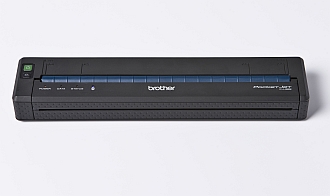 PocketJet Helping You Every Day, On The Move...
Mobile printers are a necessity for many workers out on the road including emergency service officials, sales and delivery staff, helping them to increase productivity, customer confidence and professionalism.
PocketJet 600 is one of the most compact mobile printing solutions on the market - it's also affordable, lightweight, yet durable. And it's easy to print from as PocketJet can be connected to your smartphone, PDA, tablet PC or laptop using its Bluetooth, USB or IrDA connections. Now your workforce can print high quality A4 documents when and where they need them on the move.
Field Service
Engineers out on the road can use PocketJet to print service reports for customers they are visiting, increasing customer confidence and minimising future queries.
Logistics/Deliveries
Busy delivery drivers can print out updated delivery notes and order sheets with PocketJet, helping to keep them on the move and in the right place at the right time.
Field Sales
PocketJet can print out quotations, contracts, financial plans and invoices, increasing the opportunity for your sales people to close a deal while a customer's interest is still high.
Public Safety/Emergency Services
PocketJet can increase the accuracy of recording important information out in the field, avoiding unnecessary, time-consuming paperwork back in the office.
Mobile mono printing up to A4
Up to 6ppm printing speed
Durable thermal print technology
USB and IRDA interfaces
203x200dpi
Small and lightweight
1 Year RTB Warranty
Brother PJ-622 Printer Models

| | | |
| --- | --- | --- |
| Model Number | Description | Price* |
| PJ-622Z1 | Brother PJ-622 203dpi A4 Mobile Printer (requires PSU) | £339.00 |
Brother PJ-622 Printer Accessories

| | | |
| --- | --- | --- |
| Part Number | Description | Price* |
| PA-BT-600LI | Li-ion Rechargeable Battery | £185.48 |
| PA-BT-500 | Ni-MH Rechargeable Battery | £32.06 |
| PA-AD-600EU | AC Adapter (EU) | £35.33 |
| PA-AD-600UK | AC Adapter (UK) | £35.33 |
| PA-CD-600CG | 12V Car Adapter (Cigarette Socket) | £17.39 |
| PA-CD-600WR | 12V Car Adapter (Permanently Wired) | £17.39 |
| PA-RH-600 | Paper Roll Holder | £38.04 |
| PA-RB-600 | Protective Cover | £11.95 |
| PA-RC-600 | Roll Printer Case (For Printer and Roll) | £46.35 |
| PA-CC-500 | Carrying Case (For Printer Only) | £6.53 |
| PA-CM-500 | Car Mounting Kit | £80.43 |
| PA-R-410 | A4 Paper Roll (Pack of 6 Rolls) | £43.41 |
| PA-C-411 | A4 Cut Sheet Paper (100 Sheets) | £9.99 |
*Please note all prices shown are exclusive of VAT
Brother PJ622 Printer Full Specification

| | |
| --- | --- |
| PRINTING | |
| Print resolution | 203 x 200 dpi |
| Print technology | Direct thermal |
| Printing speed | Ave.: 9.4 sec./page or 31.6 mm/second (under Brother standard environment *1) |
| Paper feed method | Manual paper feed |
| Printable area | 279.4mm x 203.2mm (maximum) |
| No. of pages per battery charge | Rechargable Li-ion Battery: approximately 300 Sheets / Rechargable Ni-MH Battery: approximately 70 Sheets (1.9% printing duty and using a fully charged new battery) |
| INTERFACE | |
| USB | USB Ver.2.0 (full speed) type A to mini type B (printer) |
| IrDA | Ver.1.2 (IrCOMM and IrOBEX) |
| Bluetooth | N/A |
| ESC/P EMULATION | |
| Built-in Fonts | Serif and Sans Serif |
| Font Sizes | 10 cpi, 12 cpi, 15 cpi and Proportional Sizes |
| Barcode support | No |
| TEMPLATE/FORM STORAGE | |
| Memory Size | N/A |
| Memory Locations | N/A |
| GENERAL | |
| Dimensions | 255(W) x 55(D) x 30(H) mm (10.04 x 2.17 x 1.18 in) |
| Weight | Approximately 470g (excluding battery & paper) |
| Battery | Rechargeable Ni-MH Battery 14.4V / Rechargable Li-ion Battery 11.1V (Optional Accessories) |
| AC adapter | AC adapter 15 V (Optional Accessory) |
| Car adapter | 2 types: Cigar Lighter Plug or Permanently Wired (Optional Accessories) |
| Operating systems support | Windows XP / Vista / 7 / Mac (USB) |
| ENVIRONMENTAL | |
| Temperature | 0°C to +40°C (During Operation) / -15°C to +50°C (During Storage) |
| Humidity | 30% to 80% (No Condensation - During Operation) / 30% to 85% (No Condensation During Storage) |
| Auto Power Off | Yes: 7 Settings (0, 10, 20, 30, 40, 50, 60 minutes) |
| PACKAGE CONTENTS | |
| Items included | Pocket Jet Printer PJ-622, Quick Setup Guide, CD-ROM (printer driver and user manual), USB cable, Head cleaning sheet |