Getac Z710
Fully Rugged Android 4.1 Tablet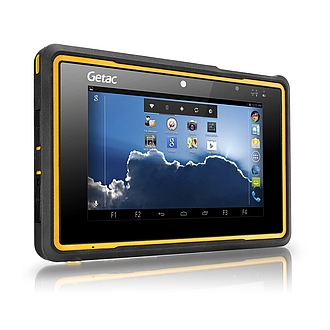 Compact and powerful, the new Android-powered Getac Z710 rugged tablet allows you the flexibility to work in nearly any environment. Perfect for data collection, data entry, PDF viewing, GPS tracking and much more, the Z710 has you covered.
The Z710 uses special damage-resistant Tempered glass. Tempered glass is both tough and scratch resistant to withstand the abuses of working in extreme conditions. To increase the screen durability and providing greater sunlight readability, the Z710 features LumiBond® optical bonding. LumiBond® adheres the cover glass, touch panel and display together into one solid unit eliminating extra edges that can reflect sunlight and creating a single durable display.
Being able to work in any environment is critical, even freezing cold conditions. The Z710 rugged tablet can be operated in temperatures from -20°C to 50°C. The Z710 is the first rugged Android tablet to be certified to a MIL-STD-810G six foot drop rating. Combine that with the IP65 dust and water protection and the Z710 is one of the most rugged Android tablets ever built.
Getac developed the Z710 using ultra-sensitive multi-touch technology to make the screen respond effortlessly to touch, press, drag and even input from a gloved hand.
Getac's proprietary LumiBond® technology reduces the layers that can reflect sunlight. Combined with an anti-reflective coating on the surface glass, the Z710 is designed to produce extremely high contrast delivering excellent visibility even in direct sunlight.
7" LumiBond® Display with Getac Sunlight Readable Technology and Glove-enabled Capacitive Touchscreen
6 Feet Drop and IP65 Certified
Optional 1D/2D Imager Barcode Reader and RFID
Optional 3.5G WWAN for data and voice communication
SiRFstarIV™ High Sensitivity GPS
Getac Z710 Models

| | | |
| --- | --- | --- |
| Model Number | Description | Price* |
| Z1B7EZD_YAXX | Getac Z710 Basic | £668.00 |
| Z1B7EZD_YBXX | Getac Z710 Premium with HSPA+ | £890.00 |
View All:
Getac Notebooks and Tablets
Rugged Tablets
Panasonic Toughbooks and Toughpads
Getac Z710 Options

| | | |
| --- | --- | --- |
| Type | Description | Price* |
| Connectivity | BT/WiFi/GPS Pass-through (for Z710 Basic) | £89.76 |
| | BT/WiFi/GPS/HSPA+ Pass-through (for Z710 Premium) | £89.76 |
| System Extra Option 1 | ANSI/ISA 12.12.01 | £180.37 |
| System Extra Option 2 | Barcode Reader | £302.62 |
| | RFID | £120.53 |
| | Barcode Reader and RFID | £423.15 |
*Please note that all prices shown are exclusive of VAT
Getac Z710 Full Specification
Operating System
Android 4.1
Mobile Computing Platform
OMAP 4430 Dual Core 1 GHz
Display
7.0" IPS TFT LCD WSVGA (1024 x 600);
LumiBond™ display with Getac sunlight readable technology
Capacitive touchscreen with glove on
Storage & Memory
1GB MDDR
16GB NAND flash
Expansion Slot
Micro SDHC (up to 32GB)
Alphanumeric Data Entry
Soft input panel (SIP) on screen keyboard
IO Interfaces
USB (Client 2.0) x 1
USB (Host 2.0) x 1
Microphone x 1
Speaker x 1
DC in Jack x 1
Docking connector (30-pin) x 1
Communication Interfaces
Optional 3.5G WWAN (HSPA+/UMTS/EDGE/GPRS/GSM) for data and voice communication
802.11 b/g/n
Bluetooth (v2.1+EDR class 2)
SiRFstarIV™ GPS (with internal antenna)
RF antenna pass-through for GPS and WWAN
Software
File Manager
GPS-ECompass
Barcode Utilityi
Barcode Configi
RFID Reader Utilityi
Google Mobile Service (Calendar, Clock, Gallery, QuickSearchBox, Google Play™, Gmail™, Google Maps™, Google+™, Google Talk™, Google Cloud Messaging, Google Voice Search™, YouTube™)
Power
AC charger (24W; 12V/2A, 100-240VAC; 50 / 60 Hz)
Lithium-Polymer smart battery (3.7V, 7600mAh) (up to 10 hours of battery life)ii
Charging time: Sleep mode, approx. 6 Hrs.
Field Service Features
GPS: SiRFstarIV™ iv
HD Web camera
5M pixels auto focus camera
E-compass
G-Seneor
Optional 1D/2D Imager Barcode reader
Optional 13.56MHz RFID and contactless smart card reader (ISO 15693 and 14443 A/B compliant)
GPS Sensor Specifications
Chipset: SiRFstarIVTM
Receiver Type: L1 (C / A)
Channels: 48 channels all-in-view tracking
Update Rate: 1 Hz
Horizontal Accuracy:
i) Autonomous: 2.5 m / 8.2 ft
ii) DGPS: 2.0 m / 6.56 ft
Cold Start Time: 35 sec average
Warm Start Time: 35 sec average
Hot Start Time: 1 sec average
Reacquisition: 0.1 sec average
Rugged Features
MIL-STD-810G and IP65 certified
Optional ANSI/ISA 12.12.01
Vibration resistant
Drop resistant (26 drops from 1.82m / 6ft)
Optional EU Explosive Atmosphere ATEX Certifiedv
Environmental Specifications
Temperature:
- Operating: -20°C to 50°C
- Storage: -40°C to 70°C
Humidity:
- 95% RH , non-condensing
Security Features
WiFi for WPA / WPA2 operation
Authentication: OPEN, SHARED-KEY, PEAP
Encryption: WEP, AES, TKIP
Native software encryption, root protection, IPSec VPN, software security support, network proxy settings, password security
(PIN, pattern, password)
Dimensions
(W x D x H) & Weight
21.8 x 14.2 x 2.7 cm
800 g iii
Accessories
AC charger
Quick start guide
Capacitive stylus and tether
Wrist strap
Hand strap
Office dock
Vehicle dock
Magnetic stripe reader and smart card reader
Vehicle charger
Carry bag
Shoulder strap
USB to RS232 converter cable
Docking connector to HDMI converter cable
Protection film
i Software may vary depending on configuration.
ii Battery performance will vary with software applications, wireless settings, power management settings, LCD brightness, customized modules and environmental conditions. Battery life and charge cycles vary by use and settings.
iii Weight varies from configurations and optional accessories.
iv Precision and reliability may be subject to anomalies due to multipath, obstructions, satellite geometry, and atmospheric conditions.
v The ATEX configuration, Z710-Ex, is certified for use in hazardous location zone 2 / 22.