Panasonic Projector PT-F300 Series
Designed for Durability and Installation Flexibility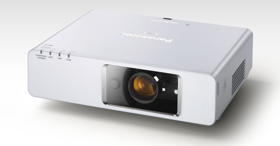 Performance You Can Count On
In addition to being bright and easy to use, the PT-F300 Series LCD projectors give you enhanced performance with minimal maintenance over time. Highly reliable optical block and a long operating life are ensured by the use of inorganic materials for the LCD panels and polarisers. The new Auto Cleaning Filter (ACF) extends the filter replacement cycle to over 10,000 hours,* 1 and together with the dust-resistant design boost reliability.
PT-F300 Series Projector Models

| | | |
| --- | --- | --- |
| Model Number | Description | Price* |
| PT-F300EA | Panasonic PT-F300EA 4000 ANSI XGA Projector | £2076.80 |
| PT-F300NTEA | Panasonic PT-F300NTEA 4000 ANSI XGA Wireless Projector | £2336.40 |
| PT-FW300EA | Panasonic PT-F300EA 3500 ANSI WXGA Projector | £2076.80 |
| PT-FW300NTEA | Panasonic PT-F300NTEA 3500 ANSI WXGA Wireless Projector | £2336.40 |
PT-F300 Series Projector Accessories

| | | |
| --- | --- | --- |
| Part Number | Description | Price* |
| ET-LAF100 | Replacement lamp unit (single) | £483.80 |
| ET-ACF100 | Replacement filter unit | £69.15 |
| ET-PKF100H | High-ceiling mount bracket | £398.84 |
| ET-PKF100S | Low ceiling mount bracket | £398.84 |
*Please note all prices shown are exclusive of VAT
High Durability for Long-Lasting Brightness
New Inorganic Materials Add Durability to the Optical Block - The F300 Series projectors' optical block maintains a high level of performance over time, due to the use of inorganic materials in the LCD panels and polarisers. It also makes them the logical choice for a truly dependable LCD projector system.
Auto Cleaning Filter to Minimise Maintenance - Panasonic's proprietary Auto Cleaning Filter (ACF) uses a highly efficient electrostatic filter called the Micro Cut Filter. The ACF brushes away dust that adheres to the filter, which helps prevent clogging that can impair operation or cause malfunction. This helps maintain the Micro Cut Filter's superior dust-collecting performance and, coupled with a dust-resistant design, minimises brightness loss due to dust accumulation. As a result, the filter does not need to be replaced for over 10,000 hours,* 1 greatly reducing the hassle of maintenance.
Dust-Resistant Design - In developing the dust-resistant design, Panasonic totally re-engineered the airflow path, from intake to exhaust, to create a cabinet that hermetically seals off the projector interior. This design and the ACF team up to keep the air inside the projector clean for long periods of time and minimise any brightness degradation.
5,000-Hour Lamp Life - Lamps used in a projector require much higher precision than ordinary household lamps. Panasonic employs a number of advanced technologies —including a proprietary lamp drive system—that help maintain optimal lamp performance for longer-lasting brightness. This has resulted in a 5,000-hour*2 lamp replacement cycle.
Looking to Replace Your Projectors?
Full of Features for Smooth Replacements
PT-F300 Series projectors make ideal replacements in existing systems. The 2x zoom lens and horizontal/vertical lens shift expand the applicable installation area, so you can place them in the same exact locations as your previous projectors. Abundant interfaces minimise additional cabling when replacing projectors. Using serial input and the Emulate function, you can continue to use the control commands of previous Panasonic models. The LAN terminals support PJLink™ class 1 connection for easy control when used in a multi-projector system. All of this means that the PT-F300 Series is your best choice both as a first-time projector and as a replacement.
Excellent Standard Features
Brightness of 4,000/3,500 lumens - A high-performance optical system combines with a high-efficiency 250 W UHM lamp to deliver a high brightness of 4,000 lumens (PT-F300NTEA and PT-F300EA) or 3,500 lumens (PT-FW300NTEA and PT-FW300EA). All models deliver crisp, bright images that are easy for the audience to see.
Daylight View 5 Gives Better Colour Perception for Easy Viewing in Various Lighting Conditions - The PT-F300 Series features Panasonic's Daylight View 5 technology. Remarkable detail is provided and perceived brightness and contrast are enhanced,* 3 so images appear crisp, vivid, 3-dimensional and easy to see even in brightly lit rooms. Sharp edges are achieved with the "Edge Enhancer Control" and "Gamma Curve Control," while the perceived contrast is improved by extending the white level. Daylight View 5 operates in combination with a built-in ambient light sensor that automatically detects room brightness and adjusts operation accordingly.
Wide Images (PT-FW300NTEA/FW300EA) - The PT-FW300NTEA and PT-FW300EA feature wide-aspect LCD panels, which allow native reproduction of WXGA (1,280 x 800) images from a PC. This provides a visually powerful display of wide-screen images from DVD sources, as well as wide-screen images from wide-aspect PCs, which are now the mainstream.
Side-by-Side Function (PT-FW300NTE/FW300E) - The PT-FW300NTEA and PT-FW300EA can simultaneously display images from two sources*4 onto a single screen. For example, you can display a PC image on the right and a video image on the left. Taking advantage of the widescreen projection, this function gives you a host of new application possibilities to explore .
Easy Installation and Maintenance
Wide 2x Zoom and Horizontal/Vertical Lens Shift Give You More Installation Flexibility - Every model can project a 120-inch image from any distance between 3.6 m (11.8 feet) and 7.2 m (23.6 feet).* 5 In new installations, this lets you accommodate a wide range of room sizes and shapes. And when replacing existing projectors, the 2x zoom greatly enhances your ease of installation and can reduce costs by permitting the use of existing mounting positions and cablings.
Wired LAN: Web Browser Control/Monitoring, E-Mail Message Alert - Anyone can operate a PT-F300-Series projector by remote control or monitor its status over a LAN network, because it is all done using the computer's familiar web browser. Furthermore, the projector sends an e-mail message to notify the operator when an error has occurred, or a lamp needs to be replaced.
Controlling and Monitoring Multiple Projectors - Panasonic's original Multi Projector Monitoring and Control freeware allows the user to control and monitor up to 1,024 projectors via LAN from a remote location. If a problem occurs, an alarm message is sent to the controlling/monitoring PC.
Abundant Connection Terminals - Designed for versatility, each projector comes equipped with a host of connection terminals, including a DVI-D input * 7 and LAN terminal. Using the serial input, you can continue to use the control commands of previous Panasonic models with the Emulate function. This makes replacement quick and easy. Upon preference, the audio out terminal can still be used during standby mode, so you can output audio without turning the projector on.
Direct Power Off - You can turn off the room's main power without waiting for the projector to cool down, because the fan keeps operating until the lamp returns to room temperature.
Easy Lamp Replacement - For easier maintenance, you can replace the lamp from the rear. The lamp is easily replaced even after the projector is installed on the ceiling. Furthermore, Panasonic PT-F300 Series projectors use the same lamp as the Panasonic PT-F100/F200 Series projectors, for efficient lamp purchase planning.
Easy Wireless Projection from Multiple PCs (PT-FW300NTE/F300NTE) - With wireless capability, you don't need cables to connect a PC. That means it's easy to bring in a laptop (with a wireless LAN function) and deliver a smooth, hassle-free presentation. You can make the settings for wireless connection quickly and easily using Wireless Manager ME 5.5 software. When the presentation is finished, Wireless Manager restores the PC to its previous LAN settings, so the PC is ready to reconnect to your LAN. Functions include Live mode and Multi-Live mode. In Live mode, the image projected is identical to the image seen on the PC screen. In Multi-Live mode, you can wirelessly connect with multiple PCs.* 8.
Easy-to-Use Remote Control with Laser Pointer* 9 - The supplied remote control features a number of wireless projection controls, including Microsoft ® PowerPoint ® page up/down capability. A frequently used function can also be assigned to the Function button.*10 In addition, remote control operation from as far away as approximately 15 meters (49.2 feet) is possible.*11.
Other Valuable Features - • Anti-theft features: Security anchor, user password, control panel lock and text superimposing • HDTV compatibility • Picture mode selection (standard/dynamic/natural/cinema/blackboard) • AV mute for image/sound muting • Selectable 17-language onscreen menu • Menu lock function.
Made in Japan - All PT-F300-Series projectors are carefully manufactured at the Panasonic factory in Japan under strict quality control.
PT-F300 Series Projector Specifications
Models
PT-FW300NTE
PT-FW300E
PT-FW300NTE
PT-F300E
Power supply
220–240 V AC, 50/60 Hz
Power consumption
350 W (Approx. 4 W in standby mode with fan stopped. Approx. 25 W when in network standby mode,
and approx. 35 W when audio is set to output during standby mode.)
LCD panel size
0.75" (19.05 mm) diagonal, 16:10 aspect ratio
0.8" (20.32 mm) diagonal, 4:3 aspect ratio
LCD panel pixels
1,024,000 (1,280 x 800) x 3, total of 3,072,000 pixels
786,432 (1,024 x 768) x 3, total of 2,359,296 pixels
Lamp
250 W UHM lamp
Brightness*1
3,500 lumens
4,000 lumens
Centre-to-corner uniformity*1
80 %
Contrast ratio*1
600:1
Lens
Manual zoom (1:1–1:1.2), manual focus,
F 1.7–2.6, f 21.6– 43.0 mm
Manual zoom (1:1–1:1.2), manual focus,
F 1.7–2.6, f 24.0–47.2 mm
Lens projection size (diagonally)
838–7,620 mm (33–300 inches) diagonally,
16:10 aspect ratio
838–7,620 mm (33–300 inches) diagonally,
4:3 aspect ratio
Lens optical axis shift
Vertical: ±51%, horizontal: ±24%
Vertical: ±50%, horizontal: ±27%
Keystone correction range
Vertical: ±30°
Scanning frequency RGB
Horizontal: 15– 91 kHz, Vertical: 50–85 Hz
Scanning frequency YPBPR
480i (525i), 480p (525p), 576i (625i), 576p (625p), 720 (750)/60p, 720 (750)/50p, 1080 (1125)/60i, 1080 (1125)/50i, 1080 (1125)/60p, 1080 (1125)/50p
Scanning frequency S-Video/Video
NTSC, NTSC4.43, PAL-M, PAL60: fH 15.75 kHz; fV 60 Hz PAL, SECAM, PAL-N: fH 15.63 kHz; fV 50 Hz
Built-in speakers
5.0 W (monaural) output power
Terminals:
DVI-D IN
DVI-D 24-pin
COMPUTER 1 IN
D-sub HD 15-pin x 1
COMPUTER 2 IN/1 OUT
D-sub HD 15-pin x 1 (input/output selectable using on-screen menu)
VIDEO IN
RCA pin x 1
S-VIDEO IN
Mini DIN 4-pin x 1
COMPUTER 1 AUDIO IN
M3 (stereo) x 1 (for COMPUTER 1)
COMPUTER 2 AUDIO IN
M3 (stereo) x 1 (for DVI-D and COMPUTER 2)
AUDIO IN
RCA (L-R) x 1 (for VIDEO/S-VIDEO)
VARIABLE AUDIO OUT
M3 (stereo) x 1
SERIAL
D-sub 9-pin x 1 (RS-232C)
REMOTE
D-sub 9-pin x 1
LAN
RJ45
Wireless LAN
IEEE802.11b/g
-
IEEE802.11b/g
-
Dimensions*2 (W x H x D)
432 x 128.5 x 323 mm (17'' x 5-1/16'' x 12-23/32'')
Weight*3
Approx. 6.2 kg (13.7 lbs.)
Supplied accessories
Power cord, power cord secure lock, wireless remote control, batteries for remote control,
Wireless Manager ME 5.5 (CD-ROM), safety wire rope
Optional accessories
ET-LAF100 replacement lamp unit, ET-ACF100 replacement filter unit,
ET-PKF100H ceiling mount bracket for high ceilings, ET-PKF100S ceiling mount bracket for low ceilings
*1 Measurement, measuring conditions, and method of notation all comply with ISO 21118 international standards. *2 Including protruding parts. *3 Average value. May differ depending on models.
*1 The replacement cycle given here is a guideline. It may be shorter depending on the usage environment.
*2 This is a maximum value calculated by continuously turning the lamp on for 3.5 hours and off for 0.5 hour. The lamp replacement cycle will decrease if the lamp is turned on/off more frequently, or if it is left on for longer intervals. *3 There is no actual change in the rated brightness or contrast ratio.
*4 This function is not effective for some source combinations.
*5 For the PT-F300NTE and PT-F300E. For the PT-FW300NTE and FW300E with 16:10 projection, 3.4 m (11.2 feet) and 6.9 m (22.6 feet).
*7 HDCP-compliant. HDMI output connection is also possible by using a commercially available HDMI to DVI-D cable.
*8 Live mode and Multi-Live mode can also be used with a wired LAN system.
*9 The laser pointer can be disabled.
*10 The following functions can be assigned: aspect menu, picture mode, and Daylight View menu.
*11 When operated from directly in front of the signal receptor. The operating range depends on the environment