OKI C9850 MFP Printer Colour A3+ LED
Print / Copy / Scan / Fax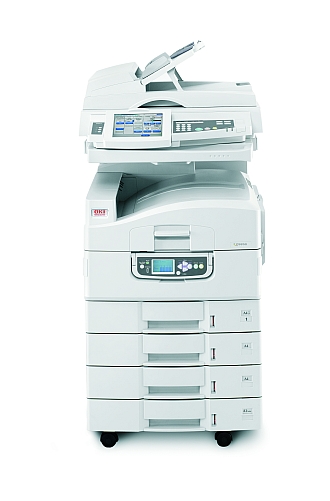 The OKI C9850 MFP is a high performance professional A3+ colour printer, copier, scanner and fax system with print and copy speeds of up to 36ppm in colour and 40ppm in mono. Oki Printing Solutions' tried and tested engine technology combines with the next generation EFI Fiery® controller and integrated EFI SendMe® functionality to deliver an outstanding suite of tools for both printing and copying high quality colour documents and for managing and distributing colour and mono documents electronically.
At the heart of the C9850 MFP's system is a powerful hardware platform featuring an Intel Celeron Processor as well as a combination of EFI developed hardware and software. It is dedicated to the task of driving pages through the print process at optimum efficiencies as well as enabling true multifunctional performance.
The embedded Fiery System 8e (a true Adobe RIP supporting all the latest Adobe PostScript PDF formats) adds a new level of advanced colour printing compared to most other printers making it ideal for users with colour critical applications. It provides a robust set of automated functions - including Fiery Spot-on, Auto-trapping and an enhanced Colour Calibration utility ensuring the OKI C9850 MFP high definition colour technology delivers consistent, predictable colour output of unparalleled quality.
SendMe® adds a powerful yet easy to use scanning application that enables customers to scan paper documents, clean, edit and annotate them and then send electronic copies to a variety of locations and document management systems. With easy access to SendMe - through the colour touch screen display - users can capture, clean up and edit hard copy documents, send scanned images securely to network folders, distribute documents by email and to fully integrate workflow into business processes.
EFI Fiery System 8e controller with Spot-on and Virtual driver support as standard
Intel Celeron 1GHz processor & 1GB RAM provides improved performance
Heavy weight paper support – up to 300 gsm
Embedded EFI SendMe
Full-featured 33.6Kbps G3 fax
True multitasking
Improved LDAP Support
Single-pass duplex scanner with 100-sheet automatic document feeder
Improved Walk-up scan to email/network/mailbox
Standard duplex printing
OKI C9850 MFP Models

| | | |
| --- | --- | --- |
| Model Number | Description | Price* |
| 01193501 | OKI C9850 Multifunction Printer | £6249.00 |
OKI C9850 MFP Accessories

| | | | |
| --- | --- | --- | --- |
| Part Number | Accessory | Description | Price* |
| 42872901 | 2-Hole Finisher Punch Unit | The 2-hole punch unit is compatible with the 4 tray or 5 tray booklet finisher and provides you with the ability to produce online stapled, folded and hole-punched booklets, brochures and other documents (requires finisher). | £243.20 |
| 42872903 | 4-Hole Finisher Punch Unit | The 4-hole punch unit is compatible with the 4 tray or 5 tray booklet finisher and provides you with the ability to produce online stapled, folded and hole-punched booklets, brochures and other documents (requires finisher). | £243.20 |
| 01166701 | 4 Tray Finisher | The 4 tray booklet finisher provides you with the ability to produce online stapled, folded and hole-punched booklets, brochures and other documents. Connects to your printer to ensure simple and efficient paper handling. | £1566.00 |
OKI C9850 MFP Consumables

| | | | |
| --- | --- | --- | --- |
| Part Number | Description | Size | Price* |
| 09004185 | OKI C9850 CD Solution Media | 165gsm, 50 sheets per pack - Compatible with Oki colour printers, Works with OKI Printing Solutions Template Manager, 50 sheets per box | £53.00 |
| 42918108 | OKI C9850 Black Image Drum | 30,000 pages | £112.00 |
| 42918916 | OKI C9850 Black Toner Cartridge | 15,000 pages | £112.00 |
| 42918107 | OKI C9850 Cyan Image Drum | 30,000 pages | £112.00 |
| 42918915 | OKI C9850 Cyan Toner Cartridge | 15,000 pages | £228.28 |
| 42931703 | OKI C9850 Fuser Unit | 100,000 pages | £117.00 |
| 42918106 | OKI C9850 Magenta Image Drum | 30,000 pages | £112.00 |
| 42918914 | OKI C9850 Magenta Toner Cartridge | 15,000 pages | £228.28 |
| 42937603 | OKI C9850 Staples | Staples for use with finisher - 5,000 staples per cartridge / 3 cartridges per box | £26.50 |
| 42931603 | OKI C9850 Transfer Belt | 100,000 pages | £112.00 |
| 42869403 | OKI C9850 Waste Toner System | 30,000 pages | £8.75 |
| 42918105 | OKI C9850 Yellow Image Drum | 30,000 pages | £112.00 |
| 42918913 | OKI C9850 Yellow Toner Cartridge | 15,000 pages | £228.28 |
*Please note that all prices shown are exclusive of VAT
OKI C9850 MFP Full Specification
Speed & throughput
A4 Print speed
36ppm colour, 40ppm mono
A3 Print speed
19ppm colour, 21ppm mono
Time to first print
10.5 seconds colour, 9 seconds mono
Warm up time
100 seconds or less from power on
Processor speed
1GHz Intel Celeron M
Scan
Resolution: 600 x 600dpi; Speed: Up to 36ppm colour, 40ppm mono; Colour depth: Input 48-bit / Output 24-bit;
Document input: 100 sheet Automatic Document Feeder (ADF), Duplex scanner; Contrast: 11 Levels; Format: PDF, TIFF, JPEG
Address book: LDAP, internal address book for e-mail, SMB and FTP; Scan to: E-mail, FTP, Mailbox, Hold queue, Remote scan Fiery remote tool, TWAIN plug-in, SMB, Fax Gateway Server, Document Management Systems*1
Copy
First copy out: 12 seconds colour, 11 seconds mono; Speed: 36cpm colour, 40cpm mono; Resolution: Normal 300dpi, Hi-Resolution 600dpi;
Reduction / Enlargement: Zoom 25-400%: 13 pre-set scaling formats and 1% increments for zoom; Maximum copies: 999
Fax
Connectivity: RJ11 x 1 (Line), PSTN, PBX Line (Analogue); Speed: ITU-T G3 (Super G3), 3 seconds/page; Fast dialing: 12 one touch dials, 500 speed dials;
Groups: Up to 10 groups; Broadcast: Max 100; Page memory: Yes (dependant on Hard Disk Drive space)
Document & output management
Command WorkStation 4, Command WorkStation (Mac edition), Fiery Impose (Optional), EFI FreeForm, EFI Mailport (Windows 32-bit only), EFI Job Monitor, EFI Hot Folders, EFI SendMe, Fiery Remote Scan, Scansoft PaperPort SE11, Omnipage SE4
Touch screen
LCD
21cm backlit colour touch screen
Key pad
12 numeric, main function buttons, start and stop
Print quality
Resolution
ProQ4800 Multi-level technology, 1200 x 1200dpi
Colour matching
Fiery ColorWise Pro Tools, EFI ICC Colour Profiles, Colour calibration with optional EFI Colour Profiler Kit
Typefaces
Printer fonts
86 scalable PCL fonts, 1 bitmap font, 10 Truetype fonts, 136 Adobe® PostScript Type 1 fonts, 2 Multiple Master Fonts, OCR A/B, USPS Barcode
Compatibility
Printer languages
PCL5c, PCL XL (Colour), Adobe® PostScript 3 with direct PDF Printing (v1.7)
Connectivity
Hi-Speed USB 2.0, 10Base-T/100Base-TX/1000Base-T Ethernet
OS Compatibility*2
Windows 2000 Professional (SP4 or later) / 2000 Server (SP4 or later) / 2000 Advanced Server (SP4 or later) / XP Professional (SP2 or later) / XP Home (SP2 or later) / XP Professional x64 (SP2 or later) / 2003 Server Standard (SP1 or later) / 2003 Server Enterprise (SP1 or later) / 2003 Server Datacenter (SP1 or later) / Server 2003 x64 (SP1 or later) / Vista (32-bit) / Vista (64-bit); Mac OS X PowerPC 10.3.9 - 10.5 / OS X Intel 10.4.4 - 10.5
Network & protocols
10Base-T/100Base-TX/1000Base-T Ethernet Card with internal Web Server for printer and network card set-up and management. Includes POP3/APOP and SMTP Mail client for submission of print jobs and for alerts. Major network protocols supported - TCP/IP, Netware and AppleTalk. TCP/IP :-ARP, IP, ICMP, TCP, UDP, LPR, FTP, HTTP(IPP), BOOTP, DHCP, SNMP, DNS, JetDirect protocols. Netware 6.5:- iPrint. AppleTalk:- ELAP, AARP, DDP, AEP, NBP, ZIP, RTMP, ATP, PAP
Utility Suite*2
Print Control Client, Print Control Server*3, PrintSuperVision.net*3, Template Manager 3.0*3, Storage Device Manager*3, Colour Swatch
Memory
RAM
1024MB
Hard Disk Drive
40GB
Paper handling
Paper capacity
Standard trays: 2,120 sheets of 80gsm; Multi-purpose tray: 230 sheets of 80gsm; ADF: 100 sheets of 80gsm
Paper sizes
Standard trays: A6, A5, A4, A3, A3+, Custom size: Width 105 - 328mm Length 148 - 457mm; Multi-purpose tray: A6, A5, A4, A3, A3+, Custom size: Width 76 - 328mm Length 127 - 1,200mm; Duplex: A6, A5, A4, A3; ADF: A5, A4, A3+
Paper weight
Standard trays: 64 to 216gsm; Multi-purpose tray: 55 to 300gsm; Duplex: 64 to 188gsm; ADF: 60 to 105gsm
Duplex
Standard
Paper feeding
Auto Media Detect, Auto Paper Tray Select, Tray Empty Sensor, Paper Low Sensor
Paper output
500 sheets face down, 200 sheets face up
Optional finisher
Stacks up to 1,000 sheets, 3 place stitching 50 sheets; up to 20 saddle-stitched booklets (40 pages)
Operating conditions
Temperature/humidity
10°C to 32°C (17°C to 27°C recommended) / 20% to 80% RH (50% to 70% RH recommended)
Storage
-20°C to 45°C, 10% to 90% RH
Power requirements
Power supply
Single phase 220-240VAC, frequency 50Hz +/- 2Hz
Power consumption
Typical: 750W, Peak: 1500W, Idle: 200W (average), Power Save: <55W
Noise level
Operating: 54dB(A) or less, Standby: 42dB(A) or less, Power save: 28dB(A) after 30 mins (background level)
Dimensions (HxWxD)
1426 x 672 x 889mm
Weight*4
193kg approx
Duty cycle
Printer duty
Maximum: 150,000 pages/month; Average: 5,000 - 15,000 pages/month
Warranty
Pan European 1 year on-site
Accessories
4 Tray Finisher • (01166701); Finisher-Punch Unit (2 hole) • (42872901);
Finisher-Punch Unit (4 hole) • (42872903)
Optional Fiery accessories and SendMe connectors
Secure Erase Kit, EFI Impose, Colour Profile Kit, Microsoft SharePoint 2007, Captaris Alchemy, Captaris Rightfax, Interwoven Worksite, ZyLAB, Embedded OCR and others
*1 Via optional SendMe connectors; *2 Check local OKI Printing Solutions website for latest driver releases and OS compatibility; *3 Windows only; *4 Including all consumables