HP ProCurve Lifetime Warranty
HP ProCurve Lifetime Warranty*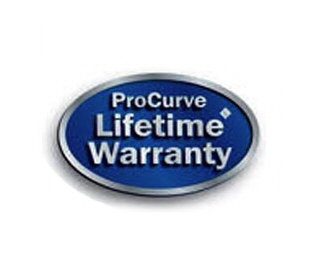 HP ProCurve's industry-leading Lifetime Warranty* which offers next business day advance replacement** (available in most countries).
HP ProCurve networking products come with the type of warranty that you would expect of HP, the lifetime warranty includes coverage of fans and power supplies for the entire warranty period.
HP ProCurve Lifetime Warranty* demonstrates HP belief in their legendary build quality.
In addition to the HP ProCurve Lifetime warranty covering hardware, software downloads are available for most HP ProCurve switches when and if available, at no additional cost. These downloads cover Maintenance Releases (Defect Fixes), Update Releases (Minor Enhancements) and Upgrade Releases (Major Enhancements). To receive notification of new software releases, register on the My.ProCurve.com website
Answers to most of the frequently ask questions about HP ProCurve Lifetime Warranty can be found in the Lifetime Warranty FAQs PDF in the following link:
Terms and Conditions
* For as long as you own the product, with next-business-day advance replacement (available in most countries). The following hardware products and their related series modules have a one-year hardware warranty with extensions available: HP ProCurve Routing Switch 9300m Series, HP ProCurve Switch 8100fl Series, HP ProCurve Network Access Controller 800, and HP ProCurve DCM Controller. The following hardware mobility products have a one-year hardware warranty with extensions available: HP ProCurve M111 Client Bridge, HP ProCurve MSM3xx-R Access Points, HP ProCurve MSM7xx Mobility and Access Controllers, HP ProCurve RF Manager IDS/IPS Systems, HP ProCurve MSM Power Supplies, HP ProCurve 1-Port Power Injector, HP ProCurve CNMS Appliances and HP ProCurve MSM317 Access Device. The following hardware products have a five-year hardware warranty for the disk drive and lifetime warranty (for as long as you own the product) for the rest of the module: HP ProCurve ONE Services zl Module, HP ProCurve Threat Management Services zl module, and HP ProCurve MSM765zl Mobility Controller. Standalone software, upgrades, or licenses may have a different warranty duration. For details, refer to the ProCurve Software License, Warranty, and Support booklet at www.procurve.com/warranty.
** Response times are based on local standard business days and working hours. Response times begin once HP has completed confirming the warranty failure and identifying the replacement part. Response time is based on commercially reasonable effort and subject to a daily shipment cutoff time. In some countries and regions and under certain supplier constraints, response time may vary. If your location is outside the customary service zone, response time may be longer. Contact your local HP service organization for response time availability in your area.