Used Panasonic Toughbook CF-F9
The Business-Ruggedised Toughbook for Ultimate Mobility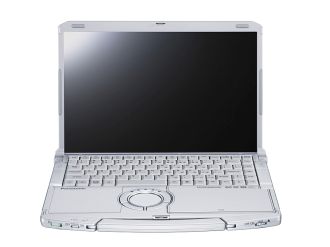 The Panasonic Toughbook CF-F9 is an Executive mobile PC with a 14.1-inch WXGA+ TFT display featuring graphics power at a resolution of 1,440 x 900 pixels. Weighing in at 1,620g makes the CF-F9 one of the world's lightest 14.1-inch wide display WWAN ready mobile PC with internal optical drive. Featuring an innovative handle on its quality black-and-silver design case provides a good balance between mobility and performance for frequent travellers and business people on the move.
Including tried-and-trusted ruggedised features, Panasonic has developed a range of Executive mobile PCs that can withstand the most common causes of mobile PC failure in real-life situations. The CF-F9's 320GB hard drive can withstand a drop from 76 cm (bottom case, operating) or two and a half feet, such as an office desk, unscathed, even with the PC running. The integrated handle on the CF-F9 substantially adds to comfort and mobility convenience, especially on the go – while protecting the mobile PC further from drops. The handle is tested to the same standard as the flagship rugged Toughbook CF-31 handle, which is used in the most extreme computing environments.
Designed with a specialised drainage system, the CF-F9 is effectively protected against water spillage. The integrated drainage system channels fluid – such as water – accidentally spilled on the keyboard away from sensitive electrical components inside the unit and out of the case.
It can also withstand pressures of up to a hundred kilos without the LCD display or hard drive sustaining damage, while the shock-absorbing pads made from custom designed sponge provides the hard drive further protection from vibration and shock.
All models provide an ideal balance between processor power and battery life. The CF-F9 features the latest Intel® Centrino® with vPro™ and 2.4 GHz Intel® Core™ i5 Processor together with 2 GB RAM and further equipped with a Mobile Intel® QM57 Express chipset. The new Toughbook Executive models clearly demonstrate that high levels of computing and long battery life need not be mutually exclusive. With approximately seven hours on one charge from the CF-F9, there are virtually no limits to reliable mobile computing throughout a busy day.
Business users benefit from simple, trouble-free wireless communication in the new Toughbook generation. In addition to the Bluetooth® module, the CF-F9 is fitted with the latest Intel® Centrino® Advanced-N 6200 technology and supports the major WLAN IEEE 802.11a/b/g/n standards, enabling data transfer rates of up to 450 Mbps in the CF-F9. Optional HSPA 7.2Mbps (UNDP) modules for the CF-F9 are available for integration.
Panasonic Toughbook CF-F9 Models

| | | |
| --- | --- | --- |
| Model Number | Description | Price* |
| CF-F9KWHZFPE | Grade A Used Panasonic Toughbook CF-F9 with integrated 3G, i5-520M 2.40GHz, 4GB, (new) 500GB HD, Windows 7 Pro. 1-Year Limited RTB Warranty | £765.00 |
All used Toughbooks are supplied with a 12-month limited RTB warranty and have been thoroughly checked and tested including the hard drive and battery to ensure that you receive a Toughbook in flawless working condition.
'Grade A' indicates light signs of use with only minor cosmetic marks on the casing and a clean unmarked screen. 'Grade B' condition indicates normal or average signs of use with some heavier cosmetic marks and scratches and possibly minor scratches on the screen. There is no difference in the functional operation of the two grades. Grade B Toughbooks are often available at a lower cost than Grade A, please call for details or use the contact form at the bottom of this page.
Panasonic Toughbook CF-F9 Accessories

| | | |
| --- | --- | --- |
| Part Number | Description | Price* |
| CF-VZSU56U | Panasonic Lithium-Ion Battery Pack for CF-F9 | £132.15 |
| CF-AA6503AE | Panasonic Spare Power Supply Unit for CF-F9 | £50.40 |
| CF-VEBU08U | Panasonic Mini Port Replicator for CF-F9 | £143.35 |
| CF-VEBF81W | Panasonic Desktop Port Replicator for CF-F9 | £211.65 |
| CF-VNC001W | Panasonic Screen Cleaning Cloth | £7.00 |
*Please note all prices shown are exclusive of VAT
Panasonic Toughbook CF-F9 Full Specification

| | |
| --- | --- |
| Mobile Computing Platform | - Intel® Core™ i5-520M vPro™ processor (2.40 GHz with Turbo Boost up to 2.93GHz, Intel® Smart Cache 3 MB) Platform |
| | - Mobile Intel® QM57 Express Chipset |
| | - Intel® Centrino® Advanced-N 6200 AGN WLAN |
| Operating System | Genuine Windows®7 Professional |
| | Downgrade option to Genuine Windows® XP Professional Service Pack3 |
| RAM | 2 GB, DDR3 SDRAM (4 GB Max.) |
| Graphic Chip | Intel® HD Media, UMA (Windows 7 max. 763MB) |
| Storage | 320GB (SATA, shock resistant and easy accessible) |
| Optical Disc Drive | DVD Super Multi Drive |
| LCD | 14.1" anti-glare Active Matrix (TFT) colour LCD (flexibly mounted) |
| | 1440 x 900 pixel (WXGA+), 16 million colours |
| LCD Cabinet | Magnesium alloy (designed to withstand a uniformly distributed load of up to 100kgf on the lid) |
| Bluetooth™ | Version 2.1 class 1 + EDR; slide on/off switch |
| WLAN | Intel® Centrino® Advanced-N 6200 (IEEE802.11a/b/g/n); slide on/off switch |
| LAN | 1000BASE-T / 100BASE-TX / 10BASE-T |
| Modem | Data: 56 kbps V.92; FAX: 14.4 kbps / voice not compatible |
| Audio | 24bit stereo, conforms to Intel® High Definition Audio Stereo speakers |
| Input Devices | Touchpad and keyboard (both water resistant - 200ml) |
| Indicators | 9 LEDs (Power, ECO, Battery, HDD, Caps Lock, Scroll Lock, Num Lock, SD card, Disc) |
| Interfaces | External display (VGA port): Mini D-sub 15-pin |
| | Headphone: Mini-jack, 3.5 DIA, stereo |
| | Microphone: Mini-jack, 3.5 DIA, stereo |
| | DC In: Jack |
| | USB 2.0: 3x 4-pin |
| | Modem: RJ11 |
| | LAN: RJ45 |
| | Mini Port Replicator: 78-pin |
| Expansion Slots | PC Card:1x Type II (3.3V: 400mA, 5V: 400mA) |
| | SD/SDHC Memory Card: 1x |
| | RAM Module: 1x DDR3 204 Pins SO-DIMM (1.5 V/PC3-6400/DDR3 SDRAM) |
| Power | Power Consumption: Approx. 80 W / approx. 35W (maximum when no-recharging in the ON state) |
| | AC Adaptor: Input: 100-240V AC, 50Hz/60Hz; Output: 16V DC, 5.0A |
| | Battery: Li-ion 10.8 V, 5.8 Ah (typ.)/5.4 Ah (min.) |
| | Battery life: Approx. 7h (Standard Model, Mobile Mark™ 2007, 60cd/m², Windows® 7 Model, Economy Mode (ECO) disabled) |
| | Charging time: Power off: approx. 3.5h; power on: approx. 5h |
| Power Management | Suspend/Resume Function, Hibernation, Standby, ACPI BIOS, Economy mode |
| Software | Microsoft® Internet Explorer 8.0, DirectX 11, Microsoft® Windows® Media Player 12, Microsoft® Windows® Movie Maker 6.0, Microsoft® .NET Framework 3.5.1, Adobe Reader, Loupe Utility, Touch Pad Utility, PC Information Viewer, PC Information Popup, WinDVD™ 8 (OEM Version), Roxio Creator LJB, Hotkey Settings, Optical Disc Drive Letter-Setting Utility, Power Plan Extension Utility, Wireless Switch Utility, Wireless Connection Disable Utility, Bluetooth Stack for Windows by TOSHIBA, Battery Recalibration Utility, Wireless Software, Infineon TPM Professional Package V3.6, Intel® Rapid Storage Technology |
| Security Features | TPM (Trusted Platform Module, TCG V1.2 compliant) |
| | Password security (supervisor password, user password, hard disk lock) |
| | Integrated hardware security lock slot |
| Dimensions (WxHxD) | 326mm x 25.5/48.5mm* x 251mm {12.8" x 1.0/1.9"* x 9.9"} (excluding protrusions; *front/back) |
| Weight | 1620g / 3.57lb (standard model including battery) |
| Integrated Options | 3G Mobile Broadband (HSPA, 7.2Mbps) |
| Warranty | 1-year warranty covering hardware failures for systems used as designed |