Panasonic Toughbook CF-AX3
Business Flip-Over Windows 8.1 Ultrabook™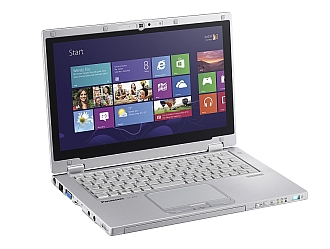 The business rugged CF-AX3 flip-over convertible 2-in-1 Ultrabook™ offers new levels of working freedom for business users making it ideal for mobile sales workforce, merchandisers and executives. With its unique Flip-Over design this business rugged Windows 8.1 device can be used as both a desirable, touch-screen tablet and state-of-the-art, stylish Ultrabook™.
Drawing on its long pedigree of combining ergonomic and durable design, Panasonic has created the highly mobile, lightweight and stylish Toughbook CF-AX3 Windows 8.1 Ultrabook™. With its unique and robust 360° Flip-Over hinge design and 10 finger capacitive touch screen, the device is designed to be used in notebook mode for mobile executives who need traditional keyboard input and tablet mode for mobile professionals who need to input data on the move and holding the device in one hand.
Intel® Core™ i5-4300U vPro Processor
Windows 8.1 Pro
Intel HD 4400 graphics
11.6" Full HD Display, IPS
10 finger Capacitive Multi Touch screen
Innovative and durable 360° hinge
Lightweight design: weighs approx. 1.135kg
Runs for approx. 12 hours
Hot Swappable Battery
Full business ports: 2x USB 3.0, LAN, SD-XC, VGA and HDMI
Enhanced security: Intel® vPro™, Anti Theft and optional smartcard reader
Passes a 76 cm free-fall test* and a 100-kgf pressurized vibration test*
* The shock resistance and pressure resistance functions are not a guarantee against damage or malfunction.
Panasonic Toughbook CF-AX3 Mk1 Models

| | | |
| --- | --- | --- |
| Model Number | Description | Price* |
| CF-AX3EDCZCE | Panasonic Toughbook CF-AX3 Mk1 | £1435.00 |
| CF-AX3EDCKCE | Panasonic Toughbook CF-AX3 Mk1 with 4G | £1635.00 |
| CF-AX3EDWZCE | Panasonic Toughbook CF-AX3 Mk1 with SCR | £1468.00 |
| CF-AX3EDWKCE | Panasonic Toughbook CF-AX3 Mk1 with SCR, 4G | £1666.00 |
To select models with Windows 8.1, replace the last 2 digits with BE
Leasing the Toughbook CF-AX3 is available to organisations and typically costs from £52.27 p/m on a 3-year agreement. For more information see computer leasing.
Panasonic Toughbook CF-AX3 Mk1 Options

| | | |
| --- | --- | --- |
| Option | Project Size | Price* |
| 256GB SSD | 20+ units | £148.00 |
| 4GB to 8GB Upgrade | 20+ units | £96.00 |
View All Rugged Tablets
View All Panasonic Toughbooks
View All Getacs
Panasonic Toughbook CF-AX3 Accessories

| | | |
| --- | --- | --- |
| Part Number | Description | Price* |
| CF-AA6503A2E | Panasonic AC Adapter for CF-AX2/3 | £50.40 |
| CF-VZSU81EA | Panasonic Battery Pack for CF-AX2/3 | £73.95 |
| CF-VCBAX11EA | Panasonic Battery Charger (USB Connection Type) for CF-AX2/3 | £53.75 |
| CF-LND80S-FD | Lind Car Charger (12 - 16V) for CF-AX2/3 | £95.25 |
| CF-LND8024FD | Lind Car Charger (12 - 32V) for CF-AX2/3 | £121.00 |
| PCPE-LNDAC01 | Lind AC/DC Combo Adapter for CF-AX2/3 | £138.60 |
| CF-VPF24U | Panasonic Protective Film for CF-AX2/3 | £43.00 |
| PCPE-BTTDP01 | Targus USB 3.0 Desktop Port Replicator for CF-AX2/3 | £221.75 |
| PCPE-FCDRV02 | Freecom Slimline Mobile DVD-RW Drive USB Powered for CF-AX2/3 | £77.30 |
| PCPE-SMBCR01 | Socket Mobile 2D Barcode Scanner for CF-AX2/3 | £553.25 |
| PCPE-WENSYN1 | Swissgear Synergy 15.6" Backpack for CF-AX2/3 | £69.60 |
| PCPE-KENLOK1 | Kensington Lock for CF-AX2/3 | £61.60 |
| 2669496 | Microsoft® Office® Home and Business 2013 (Word, Excel, Powerpoint, One Note, Outlook) | £172.50 |
| 2669489 | Microsoft® Office® Professional 2013 (As Home and Business 2013, plus Access and Publisher) | £309.32 |
| PJ-622Z1 | Brother PJ-622 A4 Mobile Printer | £339.00 |
*Please note that all prices shown are exclusive of VAT
Panasonic Toughbook CF-AX3 Mk1 Full Specification
Mobile Computing Platform
Intel® Core™ i5-4300U vPro™ processor
(1.9GHz, 3MB Intel® Smart Cache)
Operating System
Windows 8.1 Pro
Windows® 7 Professional Downgrade
RAM
4GB DDR3L SDRAM (max. 8GB)
Graphic Chip
Intel® HD Graphics 4400, UMA (Windows 8.1 max. 1.792MB)
Camera
Front: HD 720p (Still image max. 1280 x 720) with stereo microphone
Storage
128 GB Solid State Disk (Serial ATA)
LCD
11.6" Full-HD (TFT) (1920 x 1080 dots), IPS
Touchscreen
10 finger capacitive Touch screen
Bluetooth®
Version v4.0 Class 2
WLAN
Intel® Centrino® Advanced-N 7260 a/b/g/n compliant
3G Mobile Broadband
Option (EM8805, up to 14.4Mbps)
4G Mobile Broadband
Option (Gobi 5000, up to 100Mbps)
LAN
1000BASE-T / 100BASE-TX / 10Base-T
Sound
WAVE and MIDI playback, Intel® High Definition Audio subsystem support, Microphone arrays (built-in)
Input Devices
Touch screen, Touchpad and Keyboard with 85 keys
Interface
USB 3.0: x2
LAN Connector: RJ-45
External display (VGA port): Analog RGB Mini Dsub 15-pin
HDMI: x1
Microphone: Mini-jack, 3.5 DIA, stereo
Headphone: Mini-jack, 3.5 DIA
Expansion slots
SD/SDXC Memory Card: x1 UHS-I compliant
Power
AC Adapter: Input: 100V - 240V AC, 50Hz/60Hz, Output: 16V DC, 5.0A
Battery: Main: Li-Ion (7.2V, 4.4Ah), replaceable
Internal: Li-Ion (7.2V, 2.2Ah), non replaceable
Operating Time: 12 hours, MobileMark™ 2007, 60cd/m²
Security Features
TPM (Trusted Platform Module, TCG V1.2 compliant), Integrated hardware security lock slot, Password security (supervisor password, user password, HDD lock)
Physical Dimensions (W x D x H)
288 mm x 194 mm x 18 mm {11.34" x 7.64" x 0.71"}
Weight
Approx. 1.135 kg {Approx. 2.502 lbs}
Options (Project based)
Smart Card Reader
Accessories
AC-Adaptor: CF-AA6503AE/G/T
Battery Pack: CF-VZSU81EA
Battery Charger (USB connection type): CF-VCBAX11EA
LCD Protection Film: CF-VPF24U
Desktop Port Replicator PCPE-BTTDP01
Capacitive Stylus PCPE-LDYST01