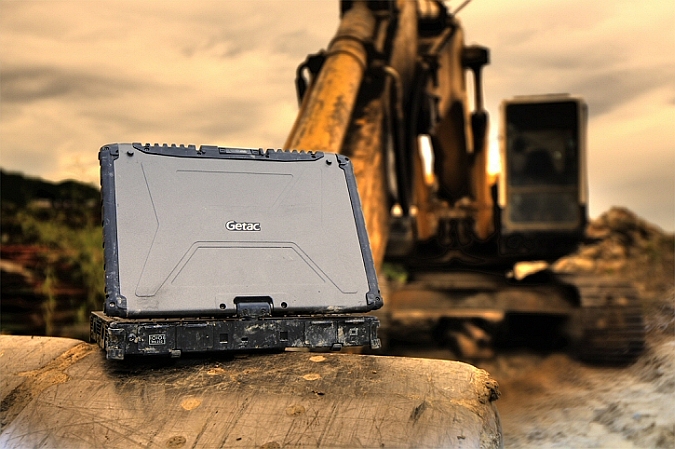 Getac V200
Fully Rugged Convertible Notebook
An effortless spin turns the Getac V200 rugged notebook into a rugged tablet PC. Paired with an Intel® Core™ i7 vPro™ processor, the V200 offers industry-leading efficiency, extraordinary battery durability with fan-less design. It also features a sturdy magnesium-aluminum alloy enclosure, shock-protected HDD and sealed I/O ports, and is impact resistant. MIL-STD-810G and IP65 certified, the V200 with micro particle proof and waterproof capabilities presents professionals working in demanding environments with a multifunctional and reliable solution.
Adaptive to different user contexts, the V200 comes with a full-sized keyboard of 88 keys and a resistive multi-touch screen that allows users to operate with gloves on. It integrates a built-in 2M pixels camera, a GPS receiver and multiple connection capabilities including Bluetooth, WLAN and WWAN, as well as advanced TPM1.2 for information protection, making it the best choice for field professionals.
Industry-leading Tablet PC with Impeccable Efficiency
Notebook to Tablet Convertible 12.1" TFT LCD WXGA Display
Embedded with Getac QuadraClear™ Sunlight Readable Technology:
Up to 1200 nits with Multi-touch Screen
Water Resistant Reversible Webcam
LifeSupport™ Battery Hot-swappable Technology
Full-sized Keyboard
Integrated GPS and Wireless Access
MIL-STD-810G and IP65 Certified
Getac V200 Models

| | | |
| --- | --- | --- |
| Model Number | Description | Price* |
| VJ319ZMEX0000000000 | Getac V200-Basic | £2965.00 |
| VJ329ZMEX0000000000 | Getac V200-Standard with integrated GPS | £3082.00 |
| VJ339ZMEX0000000000 | Getac V200-Premium with integrated GPS and GOBI 2000 | £3289.00 |
Leasing the Getac V200 is available to organisations and typically costs from £108.00 p/m on a 3-year agreement. For more information see computer leasing.
Alternative Models:
Getac V100
Toughbook CF-19
Getac E110
Toughbook CF-D1
Getac V200 Options

| | | |
| --- | --- | --- |
| Type | Description | Price* |
| OS | Optional Win7 Professional 64bit | £0.00 |
| RAM | Upgrade RAM from 2GB to 4GB | £89.00 |
| | Upgrade RAM from 2GB to 8GB | £448.00 |
| HDD | Upgrade HDD from 320GB to 80GB SSD | £275.00 |
| | Upgrade HDD from 320GB to 160GB SSD | £551.00 |
| Display | V200 - Upgrade Dual Mode (Multi-touch + Digitizer) | £172.00 |
| | Night Vision | £479.00 |
| | Upgrade Dual Mode + Night Vision | £651.00 |
| Keyboard/ | Rubber Backlit Keyboard | £172.00 |
| Touch Pad/ | Fingerprint scanner (MOQ:20) | £130.00 |
| Fingerprint Scanner | Membrane Backlit Keyboard | £138.00 |
| | Glove Touch Pad | £55.00 |
| | Rubber Backlit Keyboard + Fingerprint scanner (MOQ:20) | £303.00 |
| | Rubber Backlit Keyboard + Glove Touch Pad | £228.00 |
| | Fingerprint scanner + Membrane Backlit Keyboard (MOQ:20) | £268.00 |
| | Fingerprint scanner + Glove Touch Pad (MOQ:20) | £186.00 |
| | Membrane Backlit Keyboard + Glove Touch Pad | £193.00 |
| | Rubber Backlit Keyboard + Fingerprint scanner + Glove Touch Pad (MOQ:20) | £358.00 |
| | Fingerprint scanner + Membrane Backlit Keyboard + Glove Touch Pad (MOQ:20) | £323.00 |
| 3G Wireless/GPS | Gobi2000 Global Connect (HSDPA + EVDO) | £224.00 |
| | GPS Module | £137.00 |
| | Gobi2000 + GPS Module | £361.00 |
| System | Smart Card Reader | £110.00 |
| | Optional 2nd RJ45 (Replace RJ11) | £call |
| | Optional 2nd RS232 (replace rare 3rd USB) | £172.00 |
| | Tri Pass-through (WLAN + 3G + GPS) | £55.00 |
| | LifeSupport Battery Warm Swap | £call |
| | Smart Card Reader + Optional 2nd RJ45 (replace RJ11) | £call |
| | Smart Card Reader + Optional 2nd RS232 (replace rare 3rd USB) | £283.00 |
| | Smart Card Reader + Tri Pass-through (WLAN + 3G + GPS) | £166.00 |
| | Optional 2nd RS232 (replace rare 3rd USB) + Tri Pass-through (WLAN + 3G + GPS) | £228.00 |
| | Smart Card Reader + Optional 2nd RS232 (replace rare 3rd USB) + Tri Pass-through (WLAN + 3G + GPS) | £338.00 |
| | Other System combination options are available, please call for details | £call |
Getac V200 Accessories

| | | |
| --- | --- | --- |
| Part Number | Description | Price* |
| VJ3A1 | Spare Main Battery, 9-Cell | £151.00 |
| VJ3A2 | V- Carry Bag | £62.00 |
| VJ3A3 | V- Spare AC Adapter with Power Cord | £68.00 |
| VJ3A4 | 461F Adapter | £345.00 |
| VJ3A5 | V-External Main Battery Charger with AC Adapter | £276.00 |
| VJ3A6 | 12~32 VDC Vehicle Adapter | £86.00 |
| VJ3A7 | Stylus Pen, 10 Pcs, for Touch Screen | £41.00 |
| VJ3B5 | V200 -Vehicle light Dock & Replication Plus 12-32VDC Car Charger with Tri Pass-through | £482.00 |
| VJ3B6 | V200-Vehicle light Dock & Replication Plus 12-32VDC Car Charger with Tri Pass-through + VGA | £517.00 |
| VJ3B1 | V100/V200 - Office Dock | £241.00 |
| VJ3B4 | Spare 320GB HDD with canister | £210.00 |
| VJ3B2 | Spare 80GB SSD with canister | £506.00 |
*Please note that all prices shown are exclusive of VAT
Getac V200 Full Specification

| | |
| --- | --- |
| Operating System | Genuine Windows® 7 Professional |
| | Genuine Windows Vista® Business |
| Mobile Computing Platform | Intel® Core™ i7 vPro™ Technology |
| | - Intel® Core™ i7-620LM vPro™ Processor 2.0GHz, Max. 2.8GHz with Intel® Turbo Boost Technology |
| | - 4MB L3 Intel® Smart Cache |
| | - Mobile Intel® QM57 Express chipset |
| VGA Controller | Intel® Graphics Media Accelerator HD* |
| Display | 12.1" TFT LCD WXGA (1280 x 800) |
| | 1200 nits QuadraClear™ sunlight readable display with multi-touch screen |
| Storage & Memory | 2GB DDR3 expandable to 8GB |
| | SATA HDD 320GB |
| | Optional SATA SSD 80GB |
| Keyboard | Membrane keyboard |
| | Optional LED backlit membrane keyboard |
| | Optional LED backlit rubber keyboard |
| Pointing Device | Touchscreen |
| | - Pressure sensistive multi-touch screen (glove type) |
| | - Optional dual mode touchscreen (multi-touch and digitizer) |
| | Touchpad |
| | - Glide touchpad with scroll bar |
| | - Optional resistive (glove type) touchpad |
| Expansion Slots | PCMCIA Type II x 1 |
| | Optional ExpressCard/54 (occupies one smart card reader slot) x 1 |
| | SD card reader x 1 |
| IO Interface | 2M pixels webcam x 1 |
| | Serial port (9-pin; D-sub) x 1 |
| | External VGA (15-pin; D-sub) x 1 |
| | Microphone (Mini-jack) x 1 |
| | Audio output (Mini-jack) x 1 |
| | DC in Jack x 1 |
| | USB 2.0 (4-pin) x 2 |
| | USB 2.0 / eSATA Combo x 1 |
| | Modem (RJ11) x 1 |
| | LAN (RJ45) x 1 |
| | Docking connector (100-pin) x 1 |
| Communication Interface | 10/100/1000 base-T Ethernet |
| | 56K ITU V.92 modem |
| | Intel® Centrino® Advanced-N 6200; 802.11 a/b/g/n |
| | Bluetooth (v2.1+EDR class 2) |
| | Optional GPS |
| | Optional Gobi™2000 mobile broadband |
| Software | Getac Utility |
| | Getac Camera |
| | Getac V-GPS |
| | Adobe® Reader® |
| | Computrace® Compatible BIOS |
| Security Feature | Intel® vPro™ Technology |
| | TPM 1.2 |
| | Optional fingerprint scanner |
| | Smart card reader |
| | Kensington lock |
| Power | AC Adapter (60W, 100-240VAC, 50 / 60 Hz) |
| | Optional AC Adapter (90W, 100-240VAC, 50/60 Hz) |
| | Li-Ion smart battery (7800mAh)** |
| | Optional Li-Ion smart battery (5200mAh) |
| | Optional LifeSupport™ battery hot-swappable technology |
| Dimensions & Weight | 314 x 222 x 49 mm (12.4"x 8.74" x 1.93"), |
| | 2.7 kg (5.95 lbs) |
| Rugged Features | MIL-STD-810G certified and IP65 certified |
| | MIL-STD-461F certified*** |
| | Full magnesium alloy case |
| | Shock-protected removable HDD |
| | Vibration & drop resistant |
| Environmental Specification | Temperature****: |
| | - Operating: -20°C to 60°C / -4°F to 140°F |
| | - Storage: -51°C to 71°C / -60°F to 160°F |
| | Humidity: |
| | - 95% RH , non-condensing |
* Share memory size may be vary by different operating system and RAM size.
** Battery life testing conducted under BatteryMark 4.0.1. Battery performance will vary upon software applications, wireless settings, power management settings, LCD brightness, customized modules and environmental conditions. The battery has a limited number of charge cycles and may eventually need to be replaced by a Getac service provider. Battery life and charge cycles vary by use and settings.
*** MIL-STD-461F 90W AC adapter sold separately
**** Tested by a national independent third party test lab following MIL-STD-810G